Mumbai (Maharashtra) [India], September 13: Zenzo, a renowned provider of comprehensive pre-hospital care solutions, is revolutionizing emergency medical services by introducing a fleet of cutting-edge 5G-enabled ambulances for Hospitals and Corporates on-site projects. These advanced ambulances are equipped with state-of-the-art life-saving equipment and 5G connectivity, ushering in a new era of real-time data transmission, patient monitoring, and top-tier emergency medical care. The inaugural launch event featured Chief Guest Advocate Rahul Narwekar and distinguished figures from the healthcare industry, including Dr. Nitin Jagasia (Head – Emergency Medical Services, Apollo Hospital – Navi Mumbai), Dr. Parag Rindani (Chief Executive Officer, Wockhardt Hospitals Ltd) and Mr. Joy Mukherjee – Chief Operating Officer) – Hinduja Hospital.
Zenzo's 5G-enabled ambulances aim to meet the increasing demand for swift and effective emergency medical services. These ambulances are purposefully designed to provide advanced medical care while on the move, facilitating immediate treatment during transit, particularly in critical situations that require timely interventions. India's leading Telecommunications company played a pivotal role as the technology enabler, creating a platform for seamless integration of various medical equipment and enabling real-time data transmission. This innovation empowers medical experts to access crucial information, diagnostics, and medical records instantly.
Equipped with essential life-saving equipment such as ventilators, defibrillators, ECG machines, multipara patient monitors, syringe pumps, and digital stethoscopes, Zenzo's 5G-enabled ambulances offer comprehensive and life-saving emergency care during transportation. These ambulances constantly monitor patients' vital signs for immediate diagnosis and facilitate remote consultations with medical experts via video conferencing.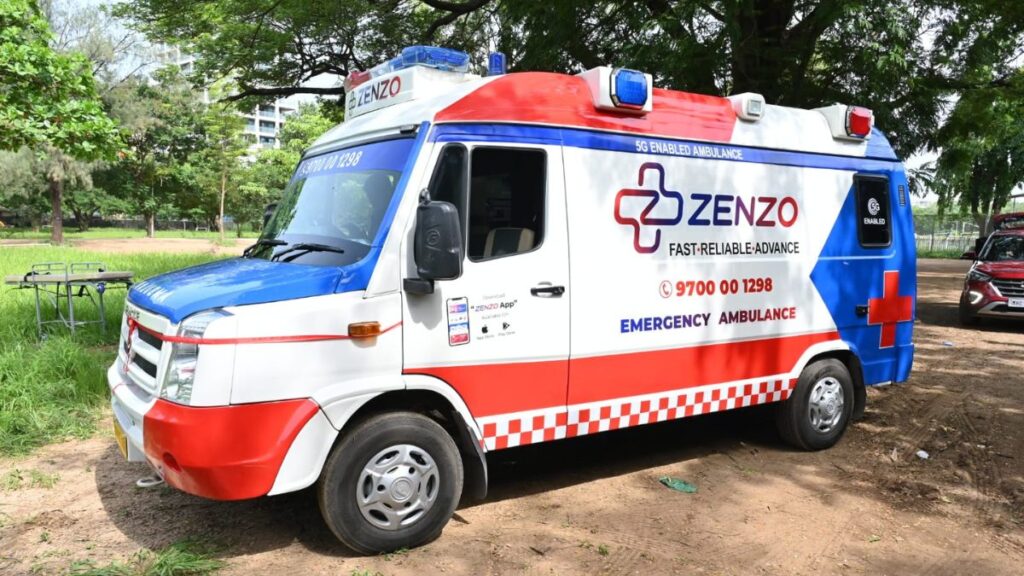 Shaffi Mather, Founder of Zenzo, stated, "At Zenzo, we are dedicated to redefining emergency medical care and boast the largest network of ambulances spanning India. Our advanced 5G-enabled ambulances represent a significant leap towards delivering high-quality medical care on the go. With the growing role of technology in healthcare, we leverage the power of 5G connectivity to enable our medical teams to provide real-time emergency care to patients."
Zenzo's 5G-enabled ambulances foster seamless collaboration among healthcare professionals from diverse disciplines, ensuring enhanced patient care. Paramedics can receive remote guidance from physicians for essential procedures. Moreover, by harnessing the critical "Golden Hour" for initiating treatment, especially for cardiac patients, Zenzo's 5G ambulances enhance treatment outcomes through timely care and interventions. Technology also facilitates pre-arrival emergency room support for hospital-bound patients.
Sweta Mangal, Director of Zenzo, commented, "Our aim is to make 5G Ambulances accessible to as many people so that the patient care on board Ambulances is top-notch, especially in the case of cardiac patients. These ambulances, through connectivity and data, can help the emergency teams in Hospitals to make informed and timely decisions for patient treatments."
With the largest network of ambulances across India, Zenzo guarantees reliable and extensive coverage, delivering prompt and professional medical assistance as a trusted lifesaver anytime, anywhere in India.
About Zenzo:
Zenzo is a leading provider of pre-hospital care solutions in India, committed to redefining emergency medical care. With an extensive network of ambulances and a dedication to leveraging cutting-edge technology, Zenzo strives to ensure timely and high-quality medical assistance for all.
If you have any objection to this press release content, kindly contact pr.error.rectification[at]gmail.com to notify us. We will respond and rectify the situation in the next 24 hours.