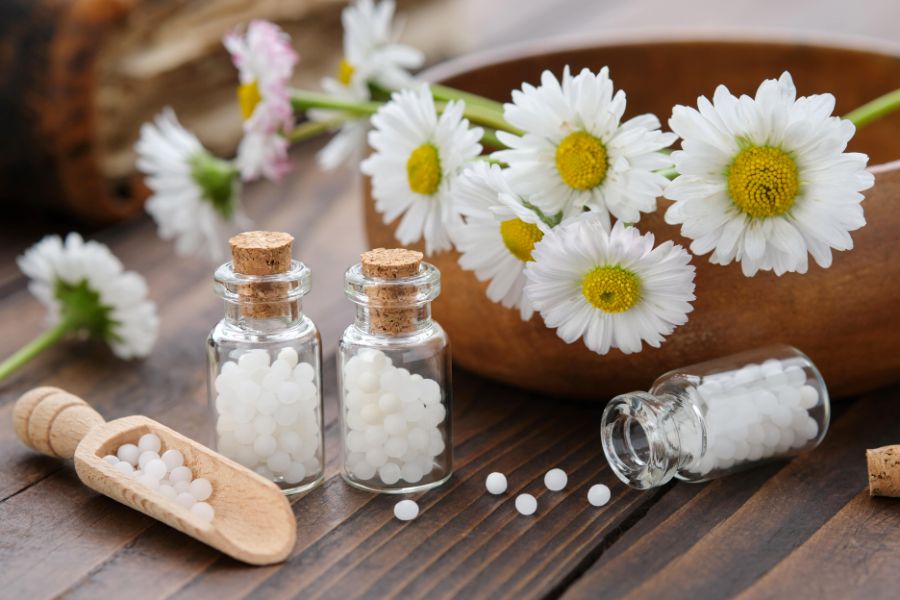 World Homeopathy Day 
New Delhi (India), April 11: India is facing a huge gap in the present healthcare system. According to the National Health Mission, India is undergoing a significant healthcare shift, with the incidence of Non-communicable Diseases (NCD) exceeding the burden of Communicable Diseases. Cancer, heart disease, chronic respiratory difficulties, diabetes, and other Non-communicable diseases account for 4.1 million fatalities, accounting for more than 60% of all deaths. Homeopathy offers a safe option for the treatment of NCDs with no side effects.
Today's Healthcare Challenges
The spending on healthcare is the lowest in India. It is even lower than our neighboring countries.
| | |
| --- | --- |
| Country | % of GDP |
| China | 6.7 |
| Myanmar | 4.68 |
| Nepal | 4.45 |
| Pakistan | 3.38 |
| Bangladesh | 2.5 |
| India | 2.1 |
The annual healthcare budget of India is 5,96,440 Crore.  With a population of 141.73 crore, only 23.76 Rupees are spent per person / per year on healthcare.
Because healthcare spending in India is inadequate, it should be supplemented with a less expensive medical system. Homeopathy fits the bill.
The workforce is not sufficient
India's doctor-patient ratio is the lowest among the developed and developing countries in the world.
| | |
| --- | --- |
| Country | Doctor- Patient ratio |
| Russia | 5: 1000 |
| Germany | 4: 1000 |
| Australia | 4: 1000 |
| France | 3: 1000 |
| China | 3: 1000 |
| United States | 3: 1000 |
| Brazil | 2: 1000 |
| India | 0.5: 1000 |
A single doctor in India serves at least 1,456 individuals, which is much higher than the WHO standard of one doctor for every 1,000 people.
Community Health Centers (CHCs) in India lack 83.2 percent of the required surgeons, 74.2 percent of the required obstetricians and gynecologists, 79.1 percent of the required physicians and 81.6 percent of the required pediatricians. Overall, there is a 79.5% shortage of experts at CHCs.
There are 5 lakh homeopathic doctors, with 2 lakh homeopathic doctors practicing actively and 3 lakh not practicing, a majority of whom are women. By using telemedicine in conjunction with a work-from-home strategy these could be employed to treat NCDs and reduce the gap of qualified doctors required in the country. This will add 40% to the existing medical health work force in our country. It will also prevent unnecessary hospitalizations.  By using  homeopathy in the treatment of NCDs, we can bring down healthcare costs and increase national productivity.
Use Homeopathy to keep a young work force healthy
As a country becomes older, the expense of supporting an aged population rises.
| | |
| --- | --- |
| Country | Average working age |
| Japan | 48 years |
| China | 37 years |
| India | 23 years |
Fortunately, India has a highly productive population of young working people.   According to the Human Resources for Health Study, roughly two-thirds of all Indian workforce are under the age of 40, with more than 25% being under the age of 30.It is imperative that to increase national productivity we keep our youth healthy and fit.  However, on an average 16.4 working days per year / per worker are lost due to illness.  This often increases due to the side effects of chemical medicine, self-treatment and antibiotic misuse. Homeopathy as a safer system of medicine with no side effects helps to increase productivity of a young work force.
The vision of a 'Bimari Mukt Bharat' can be achieved through Homeopathy with Government support.
Inadequate Insurance coverage
Individuals in India lack adequate insurance coverage. A study entitled "Health Insurance for India's Missing Middle" produced by NITI Aayog states that almost 45 million Indians lack financial protection for health.
In accordance with the research, the Ayushman Bharat scheme covers 50% of the population. Around 20% of the general population is covered by social and private voluntary health coverage. The remaining 30% of the general population receives no monetary support for healthcare treatment as they are not poor enough to be covered by government-subsidized schemes and yet not rich enough to buy private health insurance – this group is known as the 'missing middle'.
| | |
| --- | --- |
| Country | % of the population insured by the government |
| China | 95% |
| France | 95% |
| Germany | 85% |
| United States | 78% |
| India | 50% |
By covering homeopathy through insurance the cost of premiums will come down.  The consumers pay out will be less and the coverage can be increased.  Hospitalisation is the third leading cause of debt in India.  Using homeopathy as preventive medicine can save costs of hospitalisation. Let me give you two examples:
If diabetes is treated in the early stages with homeopathy, it can prevent chronic kidney disorders (CKD) and save costs of dialysis and hospitalisation later.
Similarly, if high cholesterol can be brought down by homeopathic medicine, one can save lacs on heart treatment and hospitalisation.
Import foreign patients and export foreign doctors
Around two million individuals worldwide from 78 countries travel to India every year for healthcare, well-being, and IVF treatments, generating $6 billion for the business, which is predicted to grow to $13 billion by 2026 under the government's Heal in India plan.  Homeopathy should be included as part of Heal in India.  India has the largest number of homeopathic doctors in the world (5 lacs) who have great clinical experience due to the large number of patients that they treat.  Using their expertise, promoting homeopathy through Indian embassies abroad and issuing AYUSH visas for homeopathic treatment will hugely increase medical tourism in India.
India has over 250 homeopathy colleges affiliated to universities.  In many countries abroad a 6 month certification course in homeopathy allows foreign doctors to practice homeopathy in their country.  If Indian universities had a special abridged homeopathy course either on their own or outsourced through a public / private venture, we could attract a lot of foreign students to India.
After training they would go back to their country and propagate homeopathy learnt in India thereby, truly making India a"Vishwa Guru".
If you have any objection to this press release content, kindly contact pr.error.rectification@gmail.com to notify us. We will respond and rectify the situation in the next 24 hours.