Ratnalaya Jewellers Emerges Victorious Again: Earns Big Impact Award 2023 for Exceptional Retail Experience in the Jewellery Sector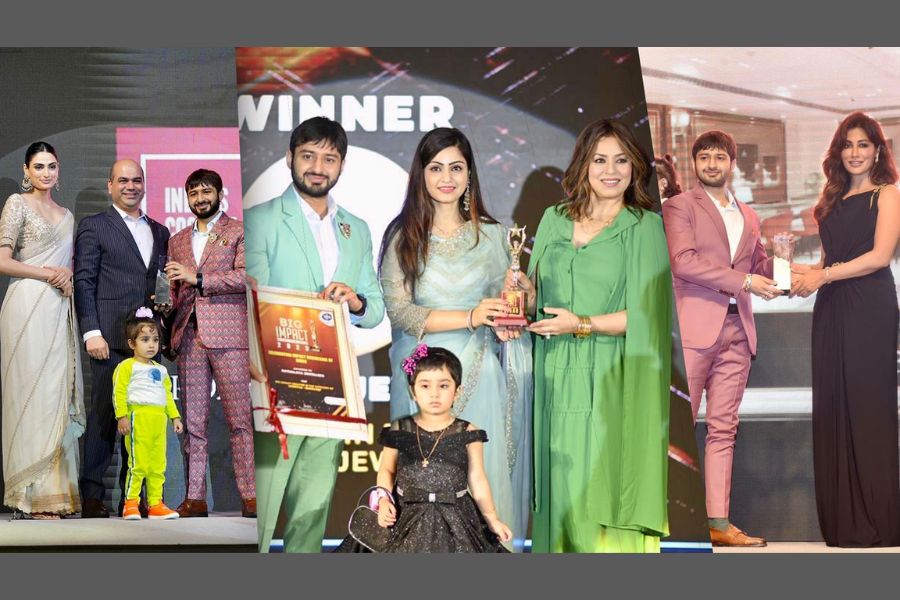 Ratnalaya Jewellers wins Big Impact Award 2023 for exceptional retail experience in jewellery sector
New Delhi (India), May 11: Ratnalaya Jewellers, a prominent jewellery brand in India, has reaffirmed its excellence by earning the esteemed Big Impact Awards 2023 for delivering outstanding retail experience in the jewellery industry. The award serves as a testimony to the brand's resolute dedication to providing its customers with an unmatched shopping experience. During a glamorous ceremony, Indian actress Mahima Chaudhary presented the award to the brand's directors, who were accompanied by their loved ones. The occasion was emotional for the brand's directors, who received the award with heartfelt appreciation along with their family members.
The Big Impact Awards are considered one of the most coveted awards in the retail industry, and winning this accolade is a significant achievement for any brand. Ratnalaya Jewellers has set the bar high with its innovative and customer-centric approach, which has earned it a loyal following of customers over the years.
Ratnalaya Jewellers has previously been acknowledged for its exceptional performance in the jewellery industry. 2022 was a fantastic year as the brand achieved multiple accolades for its exceptional performance in Platinum Sales from Platinum Guild International. Ratnalaya Jewellers received two additional awards, namely The Most Socially Responsible Jeweller award presented by Actress Athiya Shetty and the Most Tech Savvy award conferred by Indian Jeweller Magazine. Moreover, in 2021, the brand was honored with India's Coolest Store award in the East category, presented by Bollywood actress Chitrangda Singh.
In addition, Saket Keshri, Director of Ratnalaya Jewellers, has been honoured with the prestigious Yuva Ratna of the Year award at the National Jewellery Awards (NJA). The Kankarbagh branch of Ratnalaya Jewellers was recognised as the Best Single Store of the Year in the East Region by NJA.
Sharing his thoughts on the brand's exponential growth and recognition, Saket Keshri, Owner of Ratnalaya Jewellers, said, "The recognition and awards we have received in recent years are a testament to the strong foundation that Ratnalaya Jewellers laid over a century ago. We take immense pride in acknowledging that these accolades reflect not only our rich legacy but also the exceptional customer experiences and store experiences that our team consistently delivers. As a company, we are committed to staying abreast of emerging trends and technologies and continuously striving to enhance the experiences we offer to our valued customers. We acknowledge that it is their unwavering love and support over the years that has propelled us to achieve such remarkable success."
Saket Keshri further added, "These awards are a symbol of the hard work and dedication demonstrated by the entire Ratnalaya team. Every member has made an invaluable contribution to ensure that each customer receives the finest service and the most exquisite jewelry. We are immensely grateful for the trust and loyalty bestowed upon us. We extend our heartfelt gratitude to our customers, who have been an integral part of our journey, and we dedicate these awards to their continued faith and patronage. Together, we eagerly look forward to creating more memorable experiences and achieving new milestones in the years ahead."
Since joining the family business in 2014, Saket Keshri has played a crucial role in modernising the business structure and diversifying the product line. He has also introduced innovative retail formats and implemented major technological changes in the existing business model. With a deep respect for tradition and a passion for innovation, Saket Keshri has redefined the brand's legacy and ensured it remains timeless.
For a century, Ratnalaya Jewellers has been a family-owned and operated brand, spanning three generations of the Keshri family. Today, the brand showcases a thoughtfully curated collection of styles from established and up-and-coming designers, as well as bespoke design services and an extensive range of platinum, diamond, gold, silver, and solitaire jewellery. Located in the heart of Bihar's capital city, Patna, the boutique offers an intimate setting to explore the legacy of the Keshri family and their art of creating exceptional jewellery that touches lives and leaves a lasting impact.
Ratnalaya Jewellers has proven time and again that it is not just a jewellery brand but a brand that is committed to providing the best shopping experience to its customers. Its innovative approach, customer-centric focus, and commitment to social responsibility have earned it numerous accolades and the loyalty of its customers. Ratnalaya Jewellers is truly a shining example of excellence in the retail experience.
For more information, please visit: https://ratnalayajewels.com/about-us/ or follow https://www.instagram.com/ratnalaya_jewellers/
If you have any objection to this press release content, kindly contact pr.error.rectification[at]gmail.com to notify us. We will respond and rectify the situation in the next 24 hours.