GPP ONE: A villa community near Ahmedabad where sustainability and luxury get along effortlessly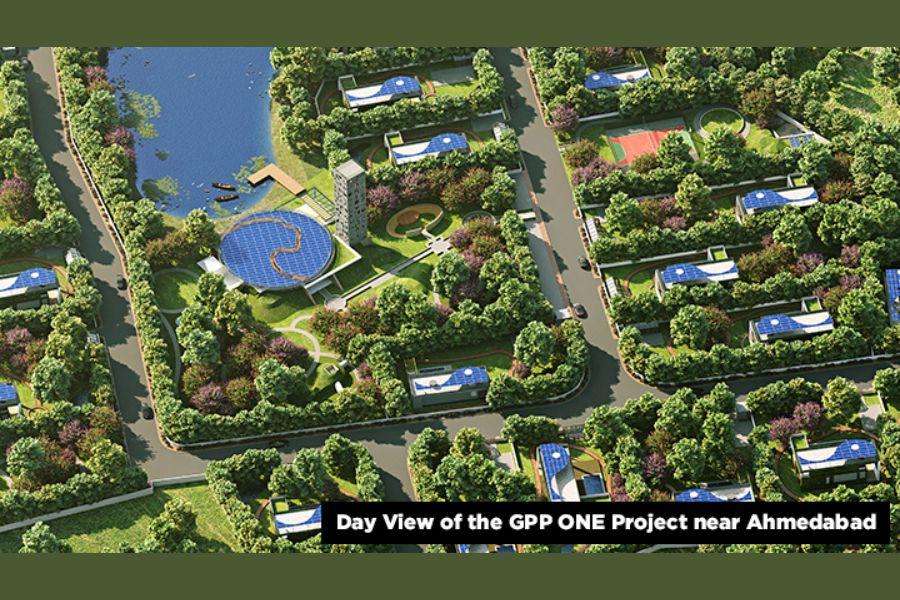 A Greener Landscape: Nature Living is the Way Ahead
The eco-luxurious initiative by Green Panther Properties promises an authentic farmhouse experience on the bank of the 70-meter-wide Narmada Canal near Ahmedabad.
New Delhi (India), April 5: The idea of putting sustainability and luxury together, even in a sentence, is highly unconventional. That's because, with the advent of the modern farmhouse age, we have lost touch with the true essence of luxury that's rooted in nature.
The typical farmhouse experience attaches the sentiment of luxury to over-the-top recreational facilities like Golf courses and Jacuzzis. It fails to capture the gracious riches of nature, waiting to be explored, and the accompanying affluence of sustainability.
But the forward-thinking team at Green Panther Properties is actively challenging the notion of modern luxury with its elegant eco-luxury villa project near Ahmedabad.
Their solution? An authentic farmhouse experience as lavish as it is sustainable. It's an oasis where one can seek the true essence of luxury in the clean air they breathe, the organic food they grow, and the blissful nature they retreat into.
A Greener Landscape: Nature Living is the Way Ahead
Located on the bank of Narmada Canal in Kadi, GPP ONE is built on the virtuous principles of sustainability and co-existence. At the same time, it also delivers on the luxury aspect of the farmhouse experience and quite graciously at that.
"While the main focus is on promoting and enabling sustainable living, the luxury element adds to the farmhouse experience we're aiming to cultivate", explained Mr. Rao.
So, what exactly makes this villa project near Ahmedabad more eco-friendly than its contemporaries? For starters, it is the first project in Gujarat to be 100% powered by solar energy. GPP ONE is estimated to harvest up to 350 KW of solar energy at the project and individual villa levels.
More interestingly, their solution for domestic water supply is just as innovative as it is sustainable. Instead of a water pump assigned to each nature villa, GPP ONE houses one communal borewell that is also powered by solar energy. Further, the availability of a 24-meter-tall water tank inside the project will ensure adequate storage and high-pressure water flow via gravity and not electricity. Put simply, water and electricity are technically free at GPP ONE. The project also has provisions for a dozen percolation wells to help replenish groundwater levels via rainwater harvesting.
"But the goal is more than just the judicious use of natural resources. GPP ONE serves the ultimate purpose of giving nature and its dweller's equal space to live, breathe, and evolve", clarified Mr. Rao.
The director has diligently put his words into action as GPP ONE maintains a green-to-grey ratio of 9:1 in its landscape and architecture. In fact, the entire project is engulfed in a wide variety of local flora and water bodies, essentially serving as an ecosystem for various species of fauna to thrive.
One of the more important ways that sustainability is incorporated at this eco-luxury villa project near Ahmedabad is that it allows the residents to grow their own food. With the provision of Poly-net Houses at the villa level, GPP ONE complements the joy of farming with the immunity of naturally grown, organic food.
But how does the luxury quotient factor into all of it?
Bespoke Nature Villas That Extend a Nature Living Experience Unique to Each Resident
GPP ONE enhances the nature living experience with luxury villas that cater to the unique needs of its residents. Each 'House of Life', as monikered by its founder, is set on an expansive canvas averaging 2,000 square-yard-plot where residents are given the artistic freedom to design the villa as per their preferences.
"Yes, every eco-resident gets to design their villa as they wish. It can range from a 1 BHK quaint nature house for a solo experience to a 3 BHK nature family home. Also, each bespoke nature villa can be equipped with the facility of opt-in and opt-out amenities", added Mr. Amit Rao
At the project level, GPP ONE hosts a range of communal amenities. Perhaps the major center of attraction is the Earth Ship, its flagship clubhouse. Additional recreational amenities include indoor games, a yoga deck, a multi-sports court, and more to underscore its authentic farmhouse experience.
A New Benchmark for Sustainability in Residential Real Estate
Indeed, Green Panther Properties is sparing no effort in promoting the ideologies of sustainability and co-existence. And in doing so, they've already set lofty benchmarks in residential real estate. GPP ONE is the first-ever villa project in Ahmedabad that 100% relies on the Sun on its energy needs. Their goal of maintaining a green-to-grey ratio of 9:1 also culminates in the entire project being 90% covered in greenery.
Interestingly, the location of GPP ONE is also not a throw of the dice. The project is strategically erected on the banks of the 70-meter-wide Narmada Canal, just 3 minutes out from Kadi Dam. Additionally, the popular Thol Lake and Bird Sanctuary is also located just 15 minutes from the site. But what truly sets it apart is the fact that it is covered by water bodies on 3 sides and dense forests on the fourth end.
Also, GPP ONE is designed in adherence to the PLATINUM RATING by IGBC (Indian Green Building Council) and is currently in the process of seeking official certification.
Green Panther Properties indeed sets an important stage for luxury and sustainability to thrive in the homes of today and tomorrow. Their first eco-luxury endeavor, GPP ONE, might just serve as the pragmatic inspiration for lush life that's supported by eco-friendly practices.
To know more about Green Panther Properties and their project GPP ONE, visit www.greenpanther.in or and give a call at +91 93888 88826.
If you have any objection to this press release content, kindly contact pr.error.rectification[at]gmail.com to notify us. We will respond and rectify the situation in the next 24 hours.