EcoEx bags the Winner Award in the 'Disruptive Solutions' Category at the 4th edition of the FICCI Smart Urban Innovation Awards 2023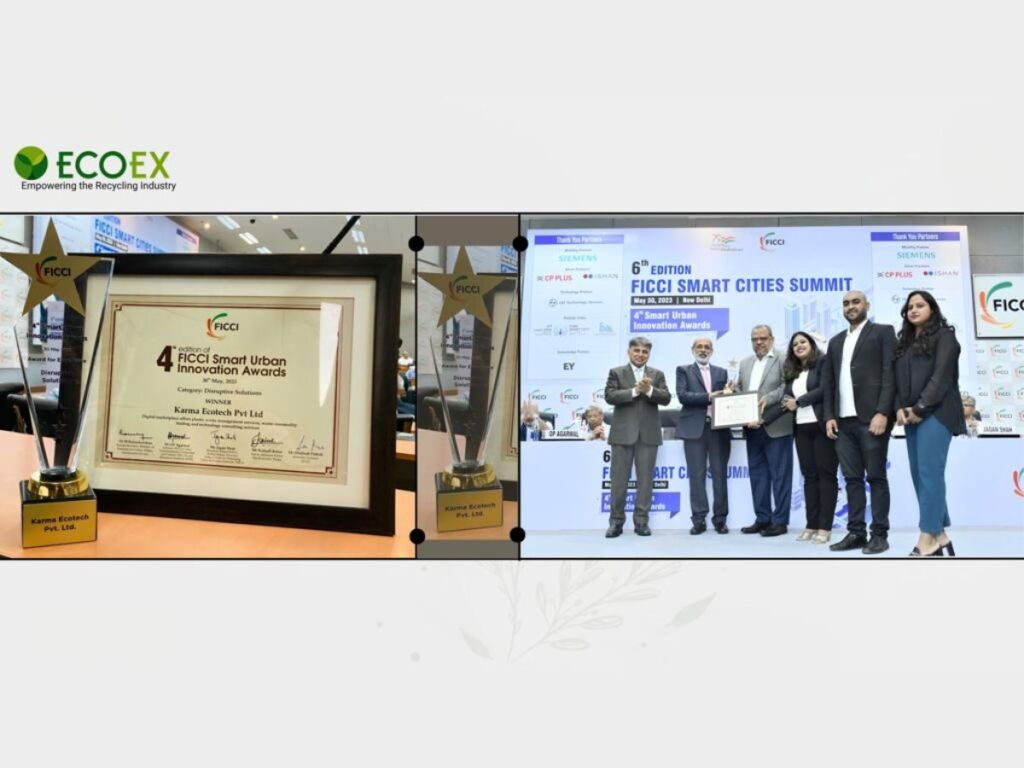 New Delhi (India), June 3: EcoEx has bagged the winning award in the 'Disruptive Solutions' category at the 4th edition of the FICCI Smart Urban Innovation Awards 2023. EcoEx is the first Indian digital marketplace that offers hassle-free EPR certificate trading and guides businesses to assess their plastic footprint and create programs that match their sustainability goals, contribute to the circular economy, and helps PIBOs (Producers, Importers, Brand Owners) to fulfil their EPR (Extended Producer Responsibility) liability.
The summit focused on the overview of India's Journey of Development of Smart Cities, Integrating Environmental & Financial Sustainability in Smart Cities which leads to empowering cities through Data-Driven Platforms and Services. The conference addressed the Key Policy Interventions and Regulatory Support for Smart Cities. Digital Solutions for a More Liveable Future.
EcoEx Enterprise EPR Solution helps the PIBOs through its traceability documentation, where data are sent to a Hyper ledger in a Block Chain, which creates a QR code that makes the solution user-friendly and improves data security. Going forward, the company is planning to launch non-fungible tokens (NFTs) for the global market. The solution is built modular and can be deployed as a whole solution or module-wise. The application has the following four building blocks and can be accessed on-premises or in a SaaS model, and it is easy to scale up and replicate.
Enterprise EPR module – In this module, any Enterprise can complete the entire procure-to-pay process and can get a transparent, auditable log of each transaction.
E-auction module- All members can use this dynamic tool for real-time negotiation with their suppliers and discover market-driven pricing.
E-marketplace – all the registered members can post their buy & sell leads, and the system does an automatic match based on a set of input data, and both can do seamless transactions.
Message broadcasting module – In this module admin can broadcast content to all or selected members free of cost, and this is integrated with an advanced broadcasting application.
Akshaya Rath, Co-Founder & CEO of EcoEx (Karma Ecotech Pvt. Ltd.), expressed, "This is a very proud moment for the organization.  At EcoEx, we believe that the digital revolution holds the key to a more liveable future. Our platform leverages cutting-edge technology to create a marketplace for environmental assets, enabling individuals and organizations to trade plastic credits, waste commodities & eco-friendly products. Going forward, the portal also will facilitate the trade of other eco assets such as renewable energy certificates, EV certificates, verra registered plastic credit certificates trade etc. By facilitating transparent and efficient transactions, we contribute to building sustainable communities and combating climate change".
"I thank FICCI for this recognition. This award fuels our passion to continue pushing the boundaries of innovation and bring more technology tools to improve circular economy & sustainability. Together, we can build a future where smart cities thrive, where environmental and financial sustainability go hand in hand, and where data-driven solutions drive positive change," added Mr Rath.
EcoEx is the first Indian digital marketplace that offers plastic waste management services, waste commodity trading, and technology consulting services. We handle plastic and e-waste in the Extended Producer Responsibility services. Additionally, we sell waste commodities. And we offer technology consulting for the setting up of recycling units, waste-to-energy plants, and waste-to-oil plants. Its channelization and disposal with a complete set of documents ensure the project is executed at the ground level. If you have any queries, we have an office set up in New Delhi, India, where our founder & management team work together to build a safe and waste-free ecosystem.
If you have any objection to this press release content, kindly contact pr.error.rectification@gmail.com to notify us. We will respond and rectify the situation in the next 24 hours.