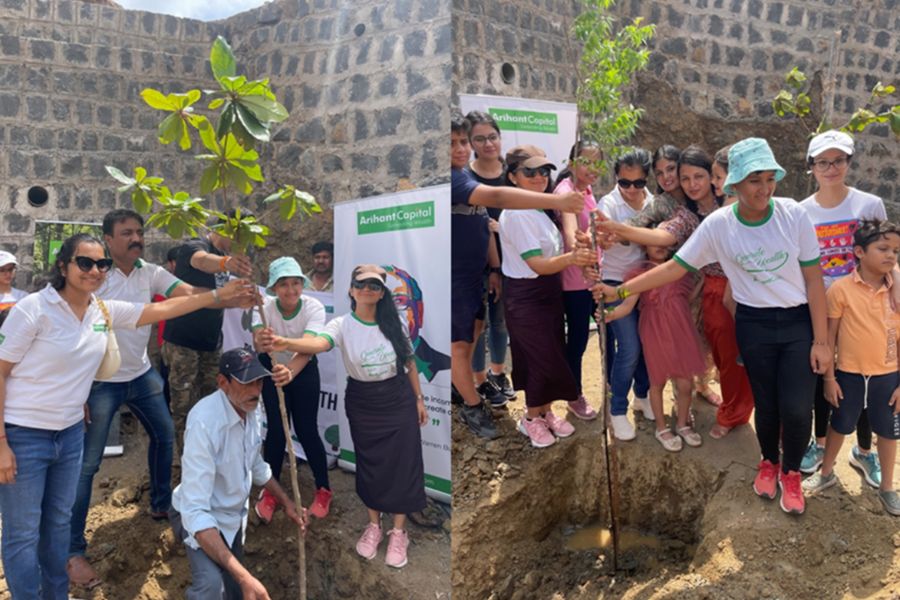 Mumbai (Maharashtra) [India], June 5:  Arihant Capital, the country's leading financial services firm, kickstarted its "Earth Campaign" in collaboration with award-winning 10-yrs old environmentalist Prasiddhi Singh. This campaign will focus on undertaking plantation drives and creating awareness about the need to make conscious choices that will help combat climate change.
Shruti Jain, Chief Strategy Officer at Arihant Capital, expressed her enthusiasm for the initiative, stating, "We are proud to have collaborated with Prasiddhi Singh in our mission to create a greener and more sustainable future. Through our tree plantation drives, we have taken a step towards contributing to environmental conservation and improving the overall health of our planet."
Shruti further adds says, "Every company needs to step up their sustainable initiatives and not engage in greenwashing, which is rampant in every sector, including the financial sector. Environmental sustainability must be a part of every company's business strategy, and at Arihant, we are trying to make the best efforts towards the planet. We are not perfect, but we are learning, improving, and doing every bit possible."
As part of the campaign, Arihant Capital successfully completed tree plantation drives in Indore this weekend with the young kids. Ms Shruti Jain said on the occasion, "Teaching kids about the environment is important to their future and the future of the planet.".
To encourage the involvement of youth and other stakeholders, the company will hold various plantation drives for the next 3-months and promote dialogues through these drives on various aspects of sustainable living.
Through their investment newsletter and blog, Arihant Capital also educates investors about sustainable investing and ESG investing. Experts at Arihant also assist environmentally conscious investors in building their sustainable portfolios.
In line with its commitment to technological innovation, Arihant Capital has also introduced a new onboarding platform. This advanced platform integrates machine learning technologies to ensure a smooth onboarding process for users. The platform enables seamless identity verification for clients by leveraging secure databases from NSDL (National Securities Depository Limited) and UIDAI (Unique Identification Authority of India). Additionally, it incorporates a secured penny-drop bank verification process, eliminating the need for physical documentation or in-person verification. This new eKYC journey not only enhances convenience for clients but also significantly reduces the carbon footprint associated with traditional KYC processes. You can get your account opened in less than 7 min without any paperwork.
Ms Jain remarked on the company's commitment to environmental responsibility, stating, "By embracing cutting-edge technologies, we can ensure a smooth investing and trading experience for our clients while contributing to a greener environment. Our new paperless eKYC platform and mobile trading app with an integrated reporting system is part of our ongoing efforts to reduce our carbon footprint and make investing journey super easy and smooth for investors."
Furthermore, Arihant Capital has implemented several initiatives toward reducing its carbon footprint and waste. Through comprehensive media campaigns, employees and channel partners are educated on the environmental impact of plastic bottles, encouraging the adoption of reusable alternatives. Additionally, the company has implemented point-of-use (POU) water filtration systems in their offices nationwide, minimizing the reliance on single-use plastic bottles. The company has also installed energy-efficient LED lights at its offices across the country.
As a socially responsible organization, Arihant Capital follows a meat-free policy across all its offices and events. The company is committed to promoting a sustainable and compassionate approach by not serving meat or other animal-based foods at all company events. This policy extends to employee meal expenses.
These initiatives collectively reflect Arihant Capital's unwavering commitment to fostering a sustainable future and positively contributing to both financial and environmental health.
Visit: https://www.arihantcapital.com
If you have any objection to this press release content, kindly contact pr.error.rectification[at]gmail.com to notify us. We will respond and rectify the situation in the next 24 hours.