AGC Grants Scholarship – Get registered at AGC NEST-A Stimulant to the gateway of your Career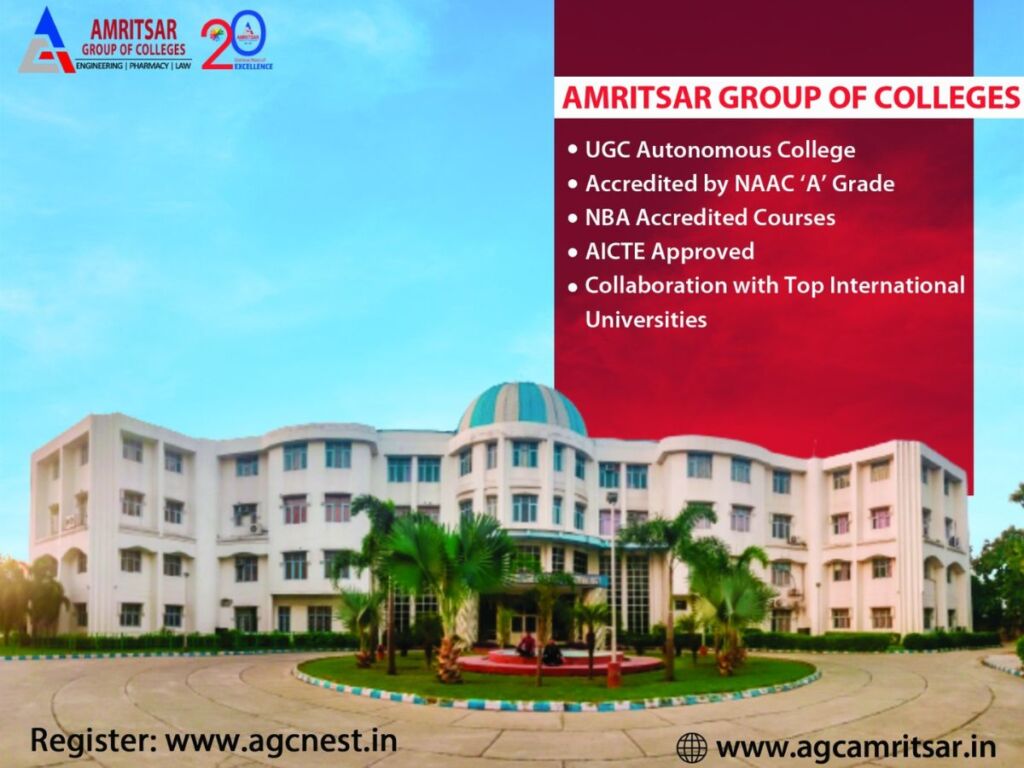 Amritsar (Punjab) [India], April 6: Want to become an engineer, doctor, academician, lawyer, or scientist?
Are you seeking the Best College for you? But financial issues are holding you back from reaching your goal attaining a stressful experience in finding the right choice. Need not worry now. Your right choice for the best college in Punjab leads to Amritsar Group of Colleges.
Convince yourself that you are the right candidate for the top Autonomous College in Punjab. If you're a gifted student from a poorer background and want to access higher education, it is possible. Here at AGC, one of the best autonomous colleges in India, we have the key answers to all your questions.
Many colleges offer various scholarship schemes to help students get the most out of their money. This extra support proves to be a massive help for any freshman and means that the college will be with you every step of the way to help you achieve the very best results that you can. AGC propels a National Level Scholarship Test named AGC NEST to render services to the aspirants seeking admission to one of the top engineering colleges in India, Best Law College and Pharmacy College in Punjab. This online exam will help you to meet all your needs in your career aspects.
Advantages of Scholarships:
Some students assume that scholarships are primarily designed for students who are in dire need of financial assistance. This is not the case. In fact, winning a scholarship will be beneficial to any student for several years following their receipt of the award. If you win a scholarship, you can give yourself a pat on the back. Moreover, winning a scholarship is a big deal. A merit scholarship confirms that you are a capable student who would be a great addition to the college.
How to apply for AGC NEST 2023?
The applicants looking for admission in a course in any field like Engineering (B. Tech, M. Tech), Pharmacy (B. Pharmacy, etc.), Law (BA LLB/LLB), Management (BBA/MBA, etc.) or Computer Applications (BCA/MCA, etc.); offered by the AGC, just need to register for AGC NEST 2023. Various scholarship schemes are available for students.
Result
One of the best things about the AGC NEST Scholarship Scheme is that you need not wait for your results. The moment you complete your test, the result of AGC NEST 2023 will appear on your screen, which will help you to refine your requirements. The result details will incorporate the number of questions you have correctly and incorrectly answered, the marks you have obtained and the scholarship that is awarded to you.
So, distinguish yourself from hundreds and benefit from the plenty of opportunities with AGC. For more details, click: – AGCNEST.IN
Are you looking for the best college for you? But you're being prevented from achieving your aim by financial concerns. Finding the ideal option results in a difficult process. No need to worry right now. Amritsar Group of Colleges is the top institution in Punjab if you make the right choice.
Make the case to yourself that you deserve admission to Punjab's best autonomous college.
It is conceivable for a brilliant student from a less affluent household who wants to pursue higher education. We have definitive responses to all of your inquiries here at AGC, one of the top autonomous institutions in India.
If you have any objection to this press release content, kindly contact pr.error.rectification@gmail.com to notify us. We will respond and rectify the situation in the next 24 hours.