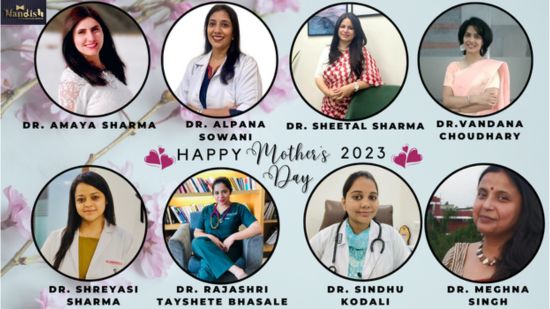 Top 8 Health Professionals' Perspective on Mother's Day
New Delhi (India), May 13: Mother's Day is a day of love, gratitude, and celebration, as we honor the incredible women who have touched our lives with their unconditional love and unwavering support. As we reflect on the significance of motherhood, we also recognize the critical role of women's health professionals in ensuring the well-being of mothers and their children. In this article, we have gathered insights and perspectives from several women's health professionals, each with their own unique experience and expertise. Together, they offer a heartfelt tribute to the mothers who inspire them and a tribute to the dedicated work of those who serve them. Let's we celebrate the joys of motherhood and the women who make it possible.
Dr. Shreyasi Sharma, MBBS, MD (ObGyn), DNB, Fellowship in Fetal Medicine, Fetal Medicine Foundation UK (FMF UK) accredited, Founder and Director -Fetal Medicine and Genetics Centre, Gurgaon
The word "Mother" evokes myriad emotions that are often difficult to express in words. Being a practicing Fetal Medicine Specialist, I am privileged to be a part of the journey of motherhood of several women. I witness the delightful moments when they see the baby in the womb for the first time or hear the baby's heartbeat. I am also witness to the less than happy moments when some of them go through a high-risk pregnancy. I deal with complex high-risk pregnancies that might require interventions such as blood transfusions to the baby in the womb. A smile on the mother's face makes facing every challenge in treating such pregnancies worthwhile. Needless to say, it culminates in a beautiful bond for a lifetime.
Being in this field and able to contribute to the ray of hope for several expectant mothers is a privilege that I hold close to my heart.
Dr. Alpana Sowani, MBBS, D.Dibetology, Diabetes Specialist, Diabetes Specialty Centre, Vile Parle and Consultant Diabetes Specialist – S.L.Raheja Hospital, Mumbai
The concept of achieving a satisfactory work-life balance is crucial for success. This delicate balance can be achieved through years of trial and error. Investing in yourself and your business as a healthcare professional may seem daunting, but it is attainable with a support system that believes in you. Motherhood teaches many lessons, including patience, adaptability, and the importance of development, all of which are significant in running any business. It is essential to keep up with the times and continue learning about your field of work while enjoying the work you do. I kept myself updated by adjusting my schedule around my kids' schedules, making them a priority. As they grew, I researched and set up an all-in-one diabetes care center that provides both medicine and a holistic approach. Now, we have a full-scale diabetes clinic in Vile Parle at affordable rates to help people with diabetes lead fulfilling lives. My goal is for my daughters to exist in a world where successful women in business have thriving family lives. Business and motherhood coexist for many working women, and embracing both aspects is the best decision anyone can make.
Dr. Sheetal Sharma, Master of Arts, KSOU, MDU, KU, CMJ, Member of National Academy of Psychology (NAOP), Member of International Association of Applied Psychology (IAAP), Chandigarh
As a psychologist for over 20 years, I have treated individuals of all ages, including children, adolescents, and adults, for a wide range of mental health issues such as depression, anxiety, addiction, and relationship problems. I am a strong advocate for the therapeutic benefits of psychotherapy, and I am proud to offer effective treatment in both individual and group settings. My counselling has helped people dealing with various issues, such as OCD, eating disorders, personality disorders, trauma, bereavement, family relational concerns, and rage. I have also instructed over 50,000 parents and 2,500 teachers on how to raise children with love and affection.
My goal is to help individuals achieve a healthy, joyful, and balanced family life by emphasizing communication and connections. Additionally, I have worked as a career strategist and have helped over 3,000 students make informed decisions about their career paths. I have organized career fairs, workshops, and school leader conclaves, as well as a mentored internship program in the field of psychology in Haryana, Punjab, Uttarakhand and Madhya Pradesh.
Dr. Sindhu Kodali, MBBS, MS OBG (Gold medalist), FMAS, DMAS, Consultant Obstetrician and Gynaecologist – MAXAID Hospital, Hyderabad
As a gynecologist, I am constantly reminded of the remarkable gift that women possess – the ability to conceive, nurture, and bring new life into the world. It is a privilege to play a role in this miraculous process. Motherhood is much more than just a physical experience. It is a nine-month transformation, both mentally and spiritually, as a woman's body nurtures and protects the growing life within.
From prenatal check-ups to postpartum follow-ups, I witness the anticipation and joy that radiate from mothers. However, ensuring the well-being of the mother requires proper planning and counselling. Preconception counselling helps optimize maternal health, reduces complications, and ensures a healthy start for the little one. When a newborn arrives, the exhaustion and pain of labor fade away, and pure love and awe fill the room. It's an experience that deserves celebration and reverence. Let us cherish and honor the transformative journey of motherhood while emphasizing the importance of preconception counselling.
Dr. Rajashri Tayshete Bhasale, Consultant Gynecologist Laparoscopic Surgeon and Obstetrician – Wockhardt Hospitals, Borivali, Mumbai
Happy Mother's Day to all wonderful mothers and those who wish to be a mother as well! As an obstetrician, I always feel blessed to deliver babies. I am their first mother, the first one to listen to their heartbeat, the first one to understand and protect them, the first one to touch them, make them cry, and the first one to hold them. It's just a blessing to be a mother in many ways. This is not a job; it's God's work. I thank God for all of this. My mission is to help women during pregnancy and make their lives pain-free. Happy Mother's Day once again!
Dr. Amaya Sharma, Mental Health Expert, Founder- MindFluence India, MSc Mental Health (USA), Jaipur
Motherhood is special, but it also comes with a baggage of emotions that no one talks about. In the joy of a newborn, most people and family members forget to address or prioritize a mother's mental and emotional health. Suddenly, everything becomes about the baby, and the mother is pushed under a huge bag of expectations on how to become the PERFECT MOM, not whine and be happy always because it's needed for the baby. A mother needs empathy and a listening ear so that she can express herself without being judged. A new mother goes through a lot emotionally and physically. Help her with the baby, take care of her needs, hug her often, and give her respect, acceptance, and space to learn things herself. Be there for a new mother.
Ms. Meghna Singh, Counseling Psychologist, Co-Founder -Peaceofmind Counseling Services, Noida
To be a mother is a blessing from God that completes a woman. I have been blessed twice, and being a mother has been fulfilling in so many ways. People say that mothers sacrifice a lot by putting their kids and family first and doing it with a smile, regardless of the situation. My journey as a mother has been all this, but I cannot take away the role of my children, who reciprocated, sacrificed, took care of me, and supported me when I was low.
Coming from Allied Mental Health Services, I carry the personal stories, traumas, pains, anguish, anger, and disorders of my patients. As a mental health professional, there are days when I feel drained and disturbed, but once I reach home, my kids become my reason to feel rejuvenated and let go of all the baggage. Regardless of your profession, it is this reciprocating behaviour from your children that makes you constantly feel like a mother and rejoice in each moment of your life.
Dr. Vandana Choudhary, Psychologist and Founder – NutureHue Solutions, Jaipur
After the pandemic, getting back to "normal" has become the new stressor. "Mothers are in a position to choose—really choose, rather than get thrown into things—what they value, as opposed to what people expect of them,". This means many mothers are reconsidering old standards and trying to figure out if that's what they want or if they want to create their own structure that works for them.
Facing obstacles and challenges, as we all do, is a part of motherhood. I believe resilience is an important skill to develop strength and positivity in a woman's life. I know mothers' advice will help me choose to move forward, find solutions, and make the best of what life has to offer. We have to nurture ourselves first to become proud mothers.
If you have any objection to this press release content, kindly contact pr.error.rectification[at]gmail.com to notify us. We will respond and rectify the situation in the next 24 hours.