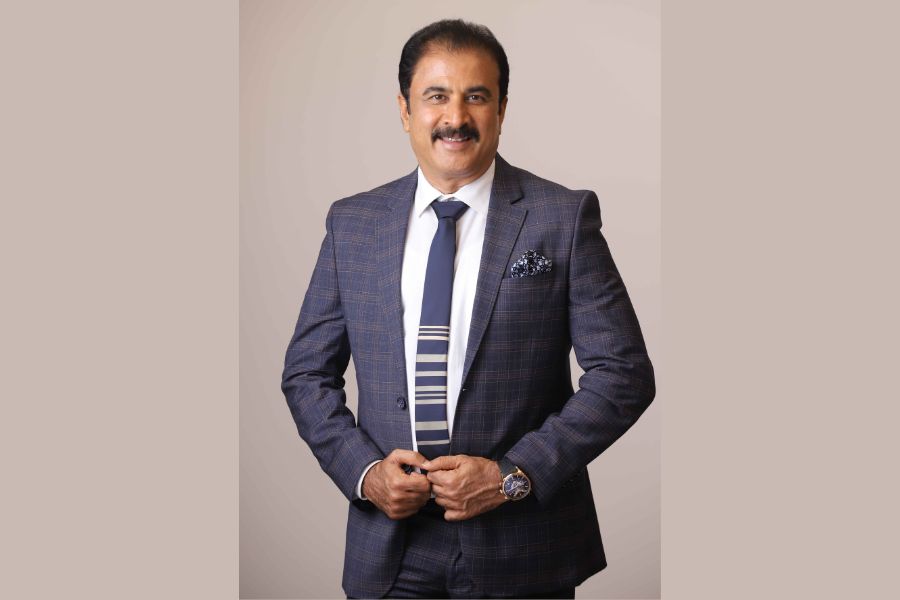 Mr Sanjay Ghodawat, Chairman and Founder, Sanjay Ghodawat Group
New Delhi (India), April 12: Sanjay Ghodawat Group (SGG), since its inception in 1993, has been serving the nation in several high-value business sectors such as: Aviation, Consumer Products, Education, Energy, Real Estate, Retail and Textiles. SGG has grown significantly under its Founder & Chairman, Mr Sanjay Ghodawat's stewardship. Driven by ethics and values, SGG has millions of customers globally, a workforce of more than 10,000, and a student base of more than 17,000.
Shrenik Ghodawat, Director of SGG, is taking forward the glorious legacy of SGG to the next stage of modernization with his youthful visionary zeal.
GHODAWAT CONSUMER
Ghodawat Consumer Ltd. (GCL) has endeared itself to millions through its customer-centric business policies since its inception in 2013.
GCL has been able to achieve the momentous milestone of INR 1,400 crore in revenue FY22 and is on track to achieve 1800cr in FY23.
GCL's 'Star' brand atta, edible oil, pulses, rice, salt, snacks, assorted namkeen, water and 'To Be Honest' – real fruit and vegetable crunchies are now household names in western and southern India. Fizzinga – carbonated drinks, Frustar – fruit drinks, Coolberg – non-alcoholic beer, and Rider – Energy Drink are among the top-selling products in the beverages category.
STAR LOCALMART
Proving to be a professional, entrepreneurial, and retail revolution in a short span of time, Star Localmart has lived up to its novel idea of a 21st-century convenience store by empowering local resources. Star Localmart has ventured into an enterprising success with over 85 stores spread across Maharashtra and Karnataka and has been a shining example of an exquisite shopping experience and excellent customer care.
With an ambitious aim to achieve a milestone of 3000 stores and generate employment for over 25,000 people by 2026.
RENOM ENERGY SERVICES
Established in 2015, Renom Energy Services Pvt. Ltd. (Renom) was set up with a basic philosophy to deliver the best operations and maintenance services through innovative practices. It is India's first and only Independent Service Provider (ISP) to manage wind turbines of all five technologies in the country.
Renom maintains 15 different brands and 35 models of wind turbines, with a total portfolio of over 2000MW spread over seven states and over 70 locations across India.
STAR AIR
Star Air offers both scheduled and non-scheduled (charter) flight services across India. Star Air operates under the popular UDAN-Regional Connectivity Scheme pioneered by the Ministry of Civil Aviation, Government of India.
It currently operates scheduled flights across 18 destinations in India, connecting communities such as Ahmedabad, Bengaluru, Mumbai, Hyderabad, and more. It has also recently signed a lease for four Embraer E175 aircraft, the first of which has recently arrived in Bengaluru.
SANJAY GHODAWAT UNIVERSITY
Sanjay Ghodawat University (SGU) was established as a State Private University in the year 2017. The Institute has received NAAC A grade; its programs are accredited by NBA, and after this, the natural progression was the evolvement of SGU.
The 165 acres of educational campus houses offering UG, PG, and PhD courses in Technology, Pharmacy, Architecture, Science, Liberal Arts, Computer Applications, Management, and Commerce.
Sanjay Ghodawat International School offers 3 curriculum to students – CBSE, IGCSE, and IB. It caters to over 4500 students in its Kolhapur and Belgavi campus and has been rated among the Top 50 schools in India.
Sanjay Ghodawat IIT & Medical Academy prepares students to crack competitive exams like JEE Main, Advance, CET, NEET, etc. It has branches in Atigre, Kolhapur, Sangli, Solapur, Beed, Nanded, Karad, Pune, Belgaum and Latur.
GHODAWAT REALTY
Ghodawat Realty (GRL) has constructed and successfully delivered over 4 million sq. ft. of high-quality residential and commercial projects across Maharashtra and Karnataka. Some of the ongoing projects include – Ghodawat SkyStar (Goregaon West), Ghodawat Tulip (Navi Mumbai), Ghodawat Daisy (Navi Mumbai), and Life Montage (Pune), amongst many others.
GHODAWAT TEXTILES
Under the brand name 'Star Line', Ghodawat Textiles creates a wide variety of high-end fabric in cotton, lycra, linen, and many varieties of fancy yarn in dobby, plain, twill, drill, satin, oxford, matt weave with an annual production capacity of more than 15 million meters. Since its inception in 2006, it is one of the well-known names in the textile business using state-of-the-art technology with a world-class setup of Picanol Omniplus I connect SMART SHADE equipped with Luwa Humidification plant.
SANJAY GHODAWAT FOUNDATION
Sanjay Ghodawat Foundation (SGF) has done considerable charitable work across its various programs since 1996. The 'Acharya Shree Tulsi Blood Bank' under SGF management is rated among the top three blood banks in India due to its sheer quality of equipment, infrastructure, and care. SGF runs a self-funded 'Kanya Mahavidyalaya' in Kolhapur and has educated more than 6000 girls from 52 villages since 1995.  Mauli Old Age Home, under the aegis of SGF, provides shelter, medical aid, food, and other essentials to abandoned elderly people. During the pandemic, SGF distributed over 5 lakh food packets to those displaced due to the lockdown and treated over 27,500 patients at its Covid Care Centre at Atigre (Kolhapur) with the aid of qualified medical personnel, life-saving equipment, and advanced medical facilities. SGF has been awarded the prestigious Mahatma Award and Ahimsa International Award, amongst others, for its impactful contribution to CSR, Sustainability, and Social Impact.
If you have any objection to this press release content, kindly contact pr.error.rectification[at]gmail.com to notify us. We will respond and rectify the situation in the next 24 hours.